BS Agribusiness Management Students and Graduates Among the Provincial Winners of Kabataang Agribiz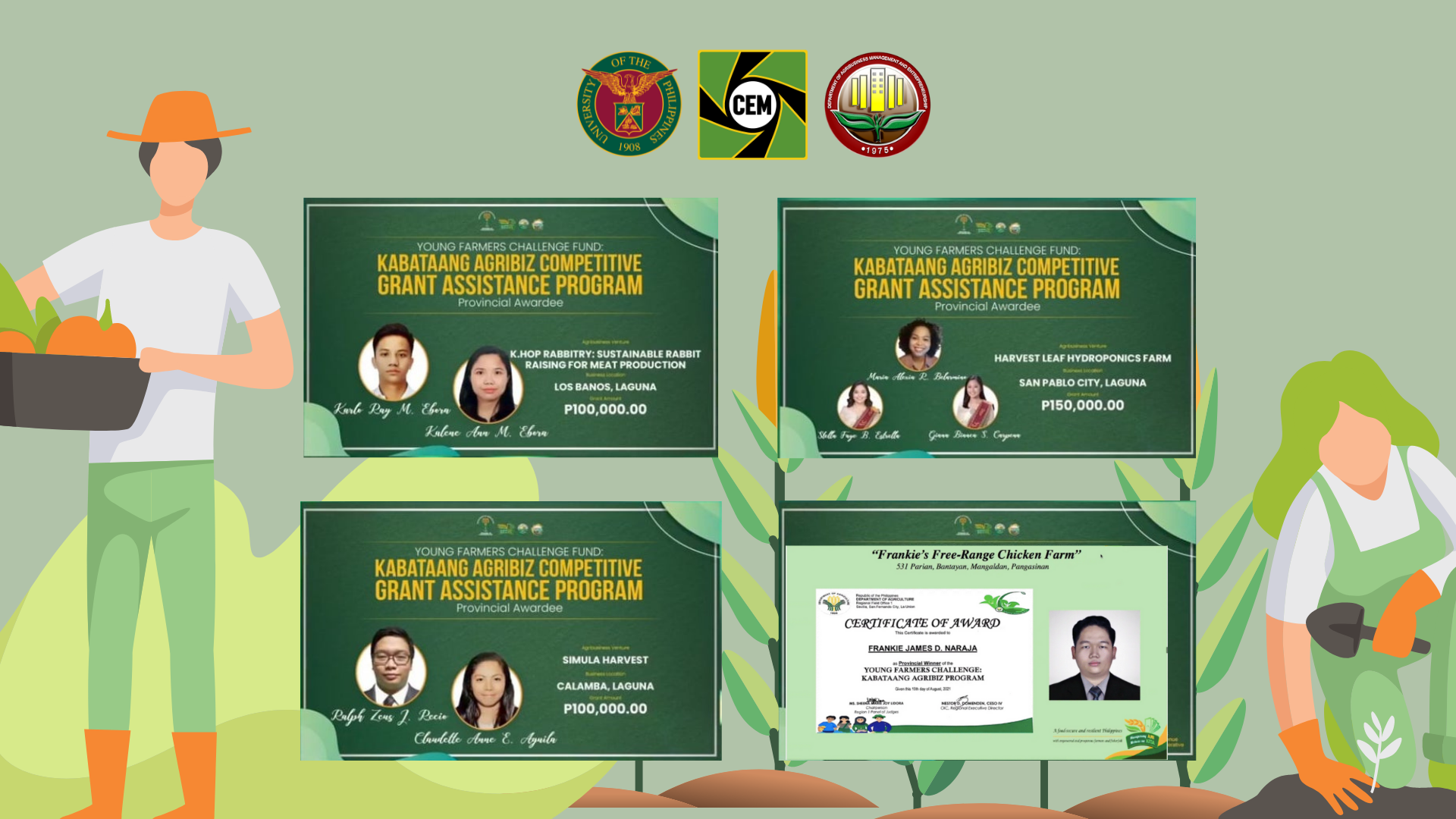 BS Agribusiness Management students and graduates were among the provincial winners of the Department of Agriculture's Young Farmer's Challenge: Kabataang Agribiz. 

Maria Alexia R. Belarmino, Giana Bianca S. Carpena, and Stella Faye Estrella, who all belong to batch 2015 of the BS ABM program secured P150,000 grant for their Harvest Leaf Hydroponics Farm. Their group plans to build a lettuce farm in San Pablo, Laguna using hydroponics technology and sell it through various social media platforms to various households in their area. According to their projections, their revenue streams are highly comparable to the net salaries of urban-based employees, which is actually aligned to the objectives of the program.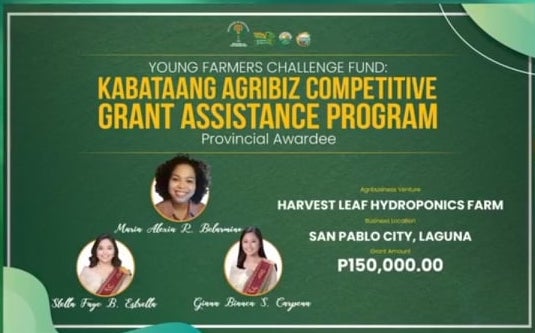 Kalene Ann M. Ebora, BS ABM student who graduated last 2014, received P100,000 to start their K.Hop Rabbitry: Sustainable Rabbit Raising for Meat Production together with Karlo Ray M. Ebora, who is also from UP Los Baños. Their venture is a response to address food security as they introduce a healthier alternative meat with shorter production, in the form of rabbit.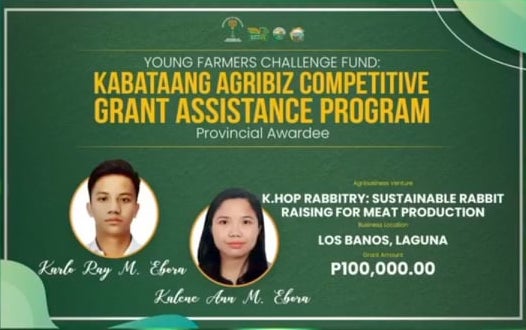 Talking about healthier options, Claudette Anne E. Aguila, also from BS ABM will use the P100,000 grant to grow their Simula Harvest venture which offers basic salad components and mixes. Claudette is with Ralph Zeus J. Recio, her business partner.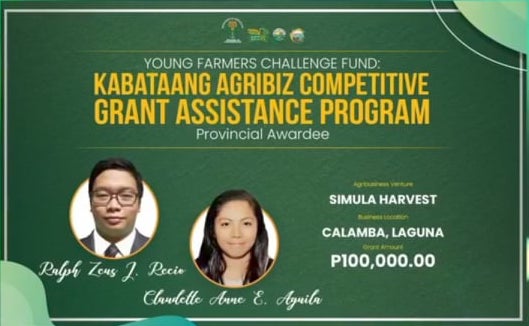 Frankie James Naraja, proponet of Frankie's Free-Range Chicken Farm also bagged a start-up funding. Frankie, a current BS ABME student from batch 2021, aims to establish this entrepreneurial venture in Pangasinan. He is one of the provincial winners for Region 1.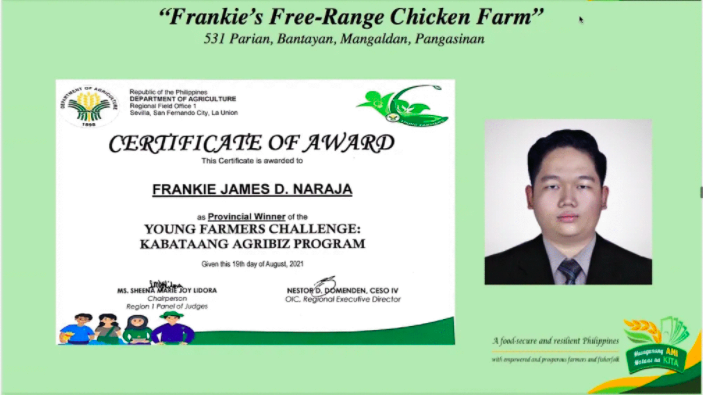 The Young Farmer's Challenge: Kabataang Agribiz is an assistance program in a form of competition for youths aged 18-30 which provides grants to fund innovative and viable business ventures. The program also aims to encourage the youth to consider agribusiness entrepreneurship as a career track to pursue.

The competition has three levels. The first, which the Harvest Leaf, K.Hop, and Simula Harvest, and Frankie's had already successfully hurdled, is the provincial level, where the teams will submit business proposals.  From this point, all of the winners from the provincial level will be implementing their proposals using the seed fund they just secured. They will be given two months to implement their proposals, and out of the provincial winners, three participants per province will be selected to compete on regional level (stage 2). In this stage, three regional winners will be selected which will be awarded with an additional cash prize of P150,000. The final competition (stage 3) is the national level, where all the provincial winners will vie for six spots who will be given an additional P300,000 and be inducted to the pool of Outstanding Youth Agribusiness Models.

Aside from the provincial winners from CEM, there are also other UPLB students who joined the contest from CALABARZON namely Aaron V. Ogot (Honeybee-han), Kelvin Michael A. Crystal (Baryo Kape), Earl Erinel C. Ison (ECI Deals Foods and Rabbitry), Junelle V. Adrias (Smart Link), and Geneva Mae L. Cabrera (G.C. Kabuteria Chips). Region 1 winners include Arvin Joshua Barlongo, while Reymar Angelo Cabatu and Jim Reeves Laguitao are from CAR. From the National Capital Region, winners are Anna Beatriz A. Suavengco, Jerome A. Sombilon, Aisha B. Cruz, John Eric P. Aggarao, Beatrice Zxandrine S. Roces, Paolo Angelo B. Nicomedes, and Hannah Mae Castro. Completing the Luzon leg, winners from the Bicol Region are Aiza M. Nieva and Brian Gabriel Buenaobra. From Visayas and Mindanao, those who received grants are Melvie Famor and Melanie Mendoza.

The department congratulates our #NextGenAgribiz alumni and , and wishes them well to the two more levels of competition ahead of them.