CEM celebrates 38th Foundation Anniversary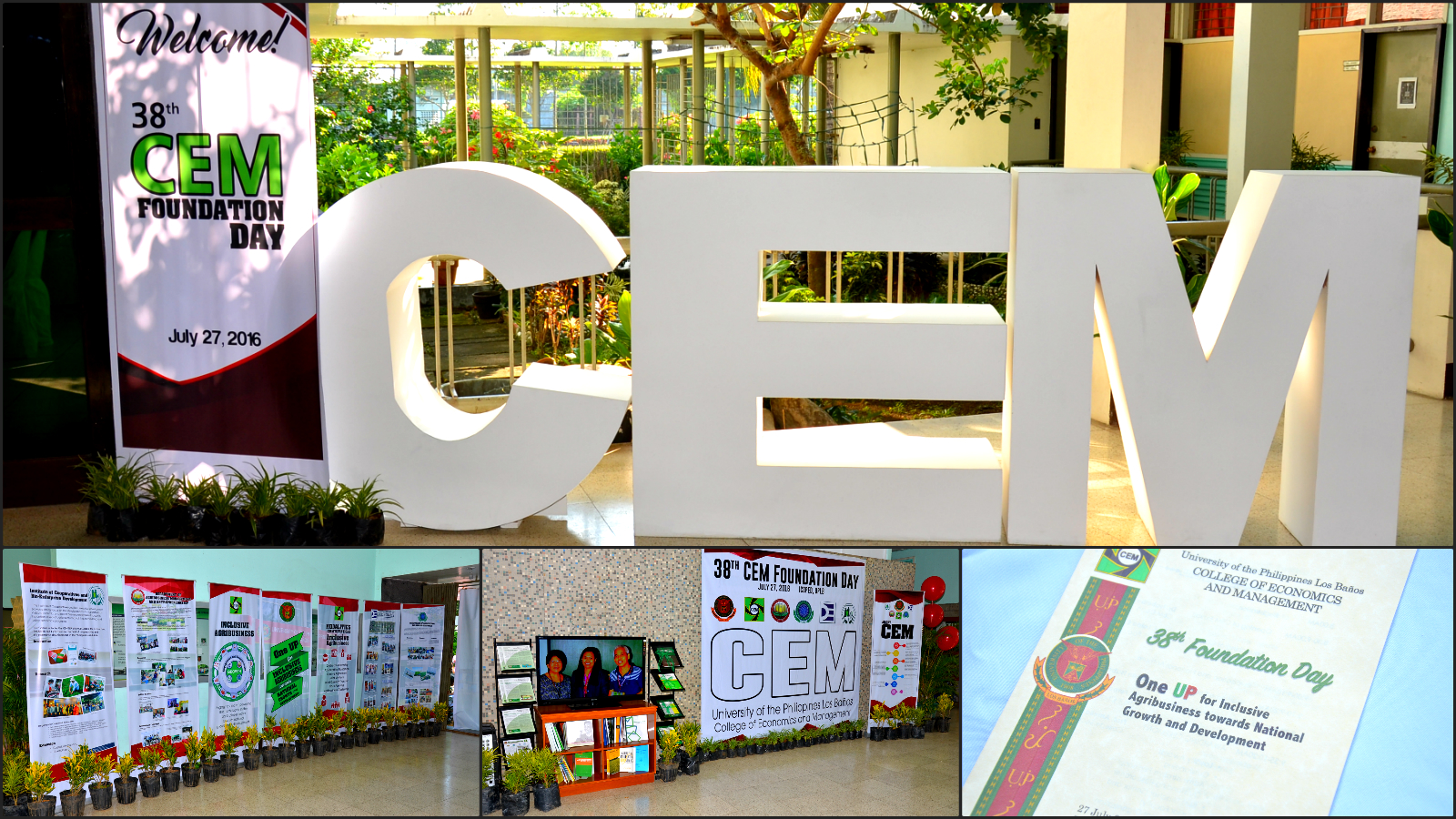 The College of Economics and Management (CEM) celebrated its 38th Foundation Day last July 27, 2015 at the ICOPED Auditorium with the theme, "One UP for Inclusive Agribusiness Towards Economic Growth and Development." The Department of Agribusiness and Management and Entrepreneurship (DAME)- CEM served as this year's host unit.
The celebration started with the launching of CEM's new knowledge products. Prof. Loida Mojica, of DAME explained this year's theme and provided brief descriptions of the new knowledge products of the college as distinguished guests, faculty, students and alumni of the college were invited to roam around the exhibit area and look into the new knowledge products.
As part of her welcome remarks, Dean Isabelita Pabuayon, emphasized and reaffirmed the college's commitment to pursuing excellence, relevance and leadership in the fields of economics, agribusiness management, and agricultural policy. Meanwhile, UPLB Chancellor Dr. Fernando Sanchez, Jr., in his inspirational message, stressed how blessed CEM was, for having a strong support team, consisting of no less than the UP President Alfredo Pascual, CEM alumni and other government and private networks. He ended his message with a challenge to CEM, that is to keep in mind the University motto – honor and excellence, in serving the Filipino people.
This year's Foundation Day Celebration paid special tribute to UP President Alfredo Pascual, a professorial lecturer of DAME and a dear friend of the college. Two of UPLB Economics Society's best performers were invited to sing two of President Pascual's favorite songs, "You Raise Me Up" and "Can't Help Falling in Love". Special testimonials reflecting their fondest memories of President Pascual were also given by DAME faculty Jimmy Williams, UPLB Graduate School Dean Jose Camacho, Jr., and Chancellor Sanchez. The college also gave a special token to him – a miniature statue of President Pascual himself.
In his response, President Pascual particularly heightened the joy of teaching. He said that, "as educators, teachers should always teach with passion and always have the desire to continuously renew themselves." In addition, being able to replicate oneself is also essential to teachers. "Being a good model to the students is one way for them to carry on the lessons imparted to them." Finally, he reminded everyone to put country above self, to serve our nation, and to continuously cooperate and share the burden of the place where one is planted.
One of the program highlights was the giving out of awards for exemplary performance of CEM constituents. This year's awardees included the following: Loyalty Awardees – Prof. Faustino Arrienda II, Dr. Agnes Banzon, and Mr. Ernesto Camingawan; Outstanding Administrative Personnel – Mr. Napoleon Solis; Outstanding Researcher – Dr. Zenaida Sumalde; Best Teacher (Senior Category) – Prof. Niño Alejandro Manalo and Best Teacher (Junior Category) – Mr. Bates Bathan; Best Student Organization – UPLB Economics Society; and Outstanding Alumni – Ms. Christine Abigail Dictado (BS in Economics 2008) for Business Development, Mr. Roberto Evangelio (BS in Economics '90) for Transportation Economics and Regulation, Mr. Jaime Nasol (BS in Agribusiness Management '86) for Banking and Finance, and Mr. Christopher Pastrana (BS in Agribusiness Management '87) for Corporate Governance.
To cap off the morning program, the groundbreaking ceremony for the two four-storey buildings of CEM was held beside the CEM College Secretary's Office. Dean Isabelita Pabuayon provided a description of the buildings; Vice Chancellor for Planning and Development Dr. Marish Madlangbayan, the target timeline for the projects; and DAME Chair Dinah Pura T. Depositario, the closing remarks.
The morning program was hosted by Prof. Jeanette Angeline Madamba of DAME and Prof. Alessandro Manilay of the Department of Agricultural and Applied Economics (DAAE).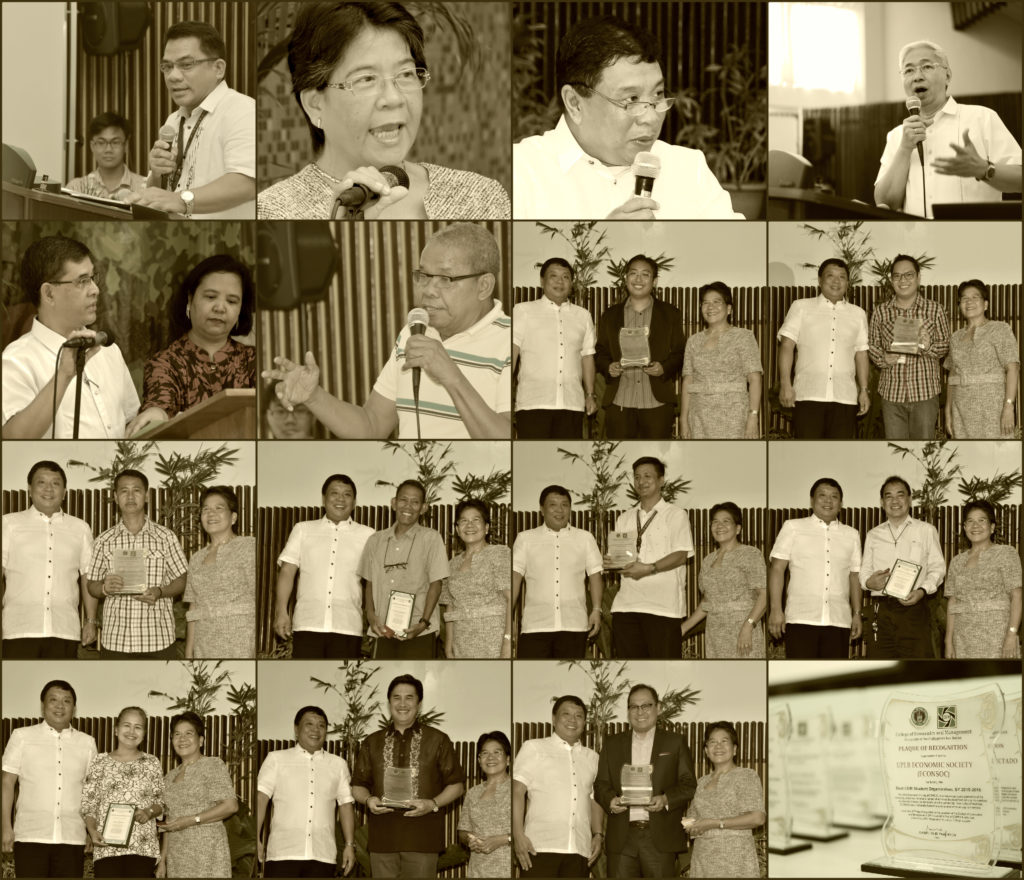 The highlight of the afternoon program was the competition "CEM Got Talent" where selected representatives of each unit showcased their talents. Bates Bathan of the DAAE and the tandem of Joel Cedric Abante and Dan Leo Diona of the Department of Economics (DE) tied for first place.
This year's celebration's overall coordinator is CEM Associate Dean Karen Quilloy and Program, Invitation and Documentation Committee Chair Dinah Pura T. Depositario.
C.M.A. Tolentino; photo credits to Mr. Simplicio Q. Veluz, Mr. Ronnel M. Rafols and Marion M. Bueno