"Cooperatives, Let's Get Online", a FREE Webinar for the 2020 Cooperative Month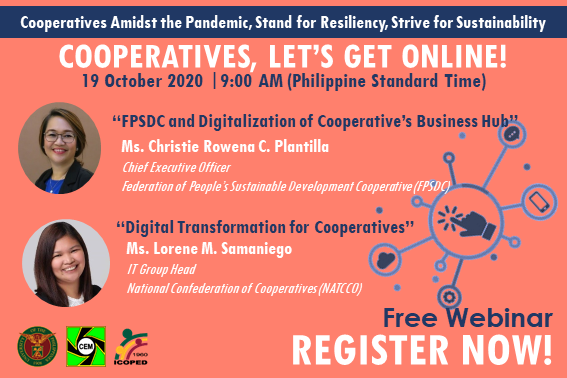 ICOPED was one with all cooperatives in celebrating the Cooperative Month this October 2020. As part of this celebration, it held a FREE webinar on October 19, 2020 at 9:00AM for all cooperatives and enthusiasts to discuss how cooperatives can be resilient and sustainable amidst the pandemic and beyond.
ICOPED invited two (2) distinguished speakers, namely: Ms. Christie Rowena C. Plantilla, the CEO of Federation of People's Sustainable Development Cooperative (FPSDC); and Ms. Lorene M. Samaniego, the IT Head of the National Confederation of Cooperatives (NATCCO). They will discuss and share their experiences on how to conduct alternative ways of doing business for cooperative enterprises and digitalization of cooperative operations in the midst of pandemic and beyond.
This webinar was livestreamed at FB ICOPED Page (www.facebook.com/icopeduplb). You could watch the video here: www.facebook.com/icopeduplb/videos/1256386964728020.