DMST ROTC2 Equips Students with Skills in Entrepreneurship and Financial Security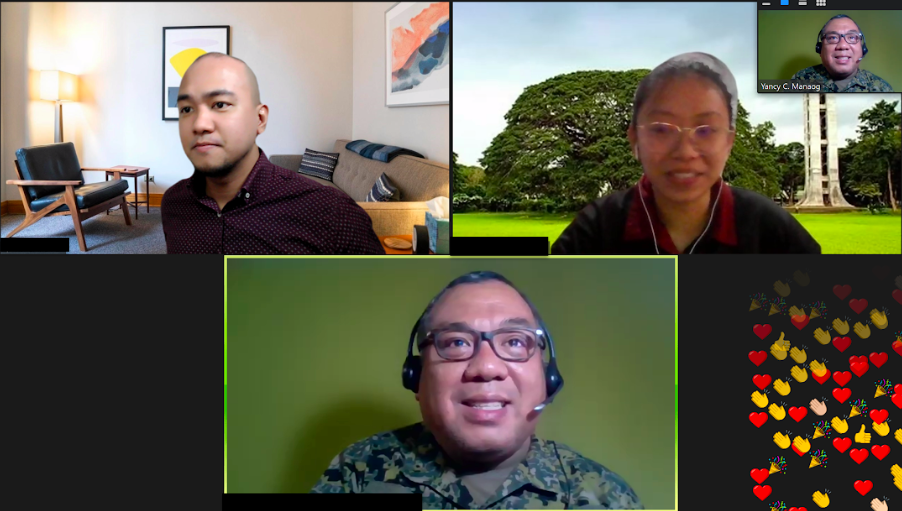 On May 21, 2022, the UPLB Department of Military Science and Tactics held a webinar attended by more than 600 ROTC2 cadets with topics on Financial Security and Entrepreneurship. This activity aimed to enhance the program of instruction of ROTC towards a more resilient and better equipped graduates in relation with the many different threats and uncertainties being experienced both locally and globally.
The first topic on Financial Security was delivered by Asst.Prof. Julieta A. Delos Reyes of the Department of Agricultural and Applied Economics (DAAE) where she focused on the value of investing and spending money wisely.
Asst.Prof. Rei Chino Pua from the Department of Agribusiness Management and Entrepreneurship (DAME) served as the resource speaker for the Entrepreneurship topic. His discussion took off where the Financial Security topic left from – for those who are not too familiar with cryptocurrency and investing in stocks or bonds, entrepreneurship could be another way towards financial security and an avenue to put to good use one's skills and talents coupled with the right mindset. More than the notion of starting one's own business or venture to be branded an entrepreneur, he stressed the importance of having an "entrepreneurial mindset".
For cadets, and for anyone in an organization, this mindset can be useful to generate creative ways of addressing problems. In line with the core teachings of ROTC aligned with discipline, dedication, and leadership, cadets can be more pro-active rather than reactive in dealing with situations. Anticipating the future and thinking out of the box are good practices of an entrepreneurial mind.
Finally, on the entrepreneurial side of starting a business venture, Asst.Prof. Chino gave tips on where to find inspirations such as one's environmental scanning and one's personal hobbies and interests. The saying "do what you love, love what you do", is a great starting point turn your interests to fruitful and valuable endeavors. Failures are always part of the journey but taking calculated risks will give one more leverage in the complicated and competitive nature of business. He ended his talk challenging the people to be part of making a positive impact to society though an entrepreneurial mind; as Mae Jemison said – "Never be limited by other people's limited imaginations".