Economic and Business Research During the Pandemic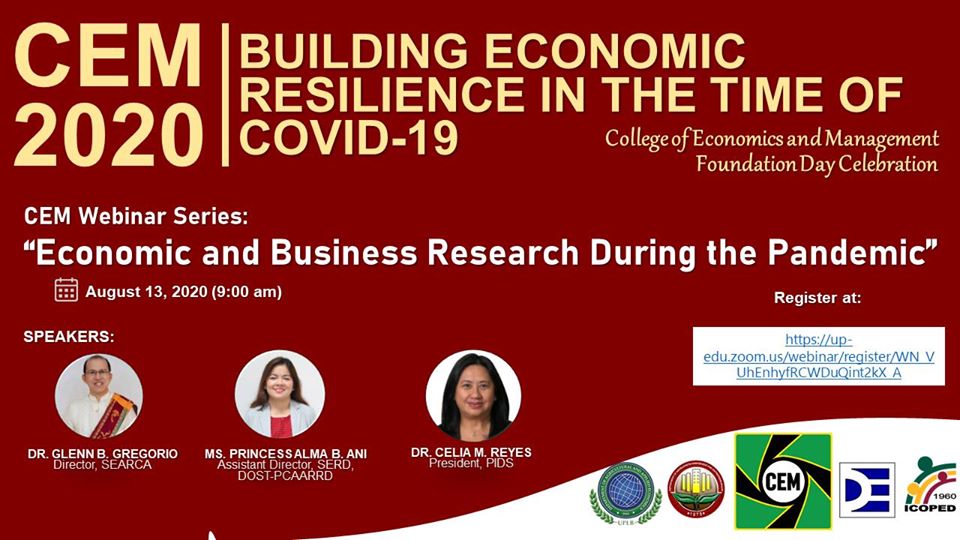 by: Liezel S. Cruz (ICOPED)
The College of Economics and Management (CEM) celebrated its Founding Anniversary on August 11-14, 2020 with the theme "CEM 2020: Building Economic Resilience in the Time of COVID-19." As part of the celebration, the college hosted a series of webinars that tackle economics and business issues during the COVID-19 pandemic.
This was the third installment of the CEM Webinar series hosted by the Department of Agricultural and Applied Economics (DAAE) entitled, "Economic and Business Research During the Pandemic" held on August 13, 2020 from 9-12pm.
Dr. Glenn B. Gregorio (Director of SEARCA), Ms. Princess Alma B. Ani (Assistant Director of SERD DOST-PCAARRD) and Dr. Celia M. Reyes (President of PIDS) graced the event and imparted their knowledge on the "new normal" of doing economic and business research during the COVID-19 pandemic.
You may view the video of the event here: https://www.facebook.com/watch/live/?v=884415412084328