Philippine Agriculture and Economy in the Time of COVID-19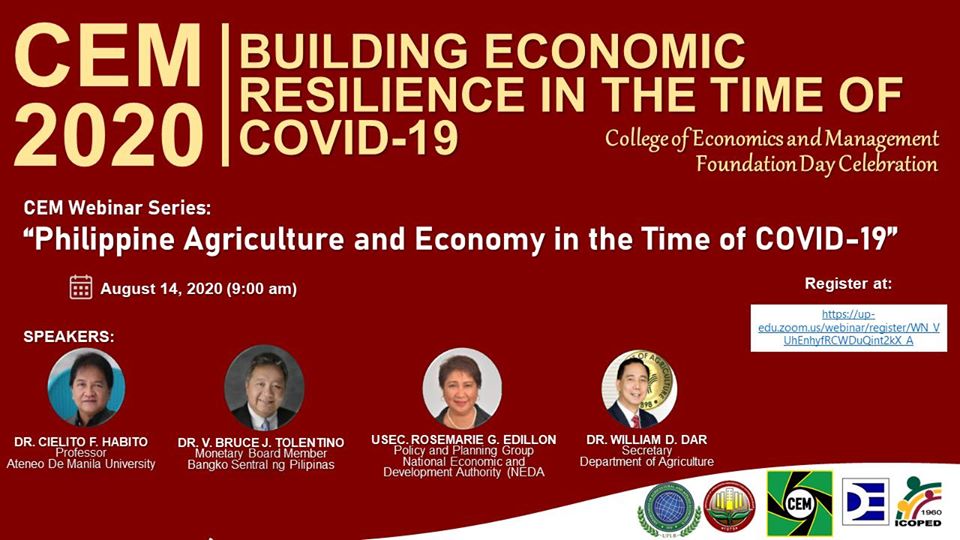 by: Liezel S. Cruz (ICOPED)
The College of Economics and Management (CEM) celebrated its Founding Anniversary on August 11-14, 2020 with the theme "CEM 2020: Building Economic Resilience in the Time of COVID-19." As part of the celebration, the college hosted a series of webinars that tackle economics and business issues during the COVID-19 pandemic.
This was the last leg of the CEM Webinar series hosted by the Department of Economics (DE) entitled, "Philippine Agriculture and Economy in the Time of COVID-19" held on Aug. 14, 2020 from 9:00 am to 12:00 pm.
Dr. Cielito F. Habito (Profesor of Ateneo De Manila University), Dr. V. Bruce J. Tolentino (Monetary Board Member of the Bangko Sentral ng Pilipinas), USEC. Rosemarie F. Edillon (Policy and Planning Group of the National Economic and Development Authority) and Dr. William D. Dar (Secretary of the Department of Agriculture) shared their insights, plans, strategies and vision of Philippine agriculture and economy during and after the pandemic.
You may view the video of the event here: https://www.facebook.com/watch/live/?v=329353148116896