Nestlé PH taps CEM students for climate action initiative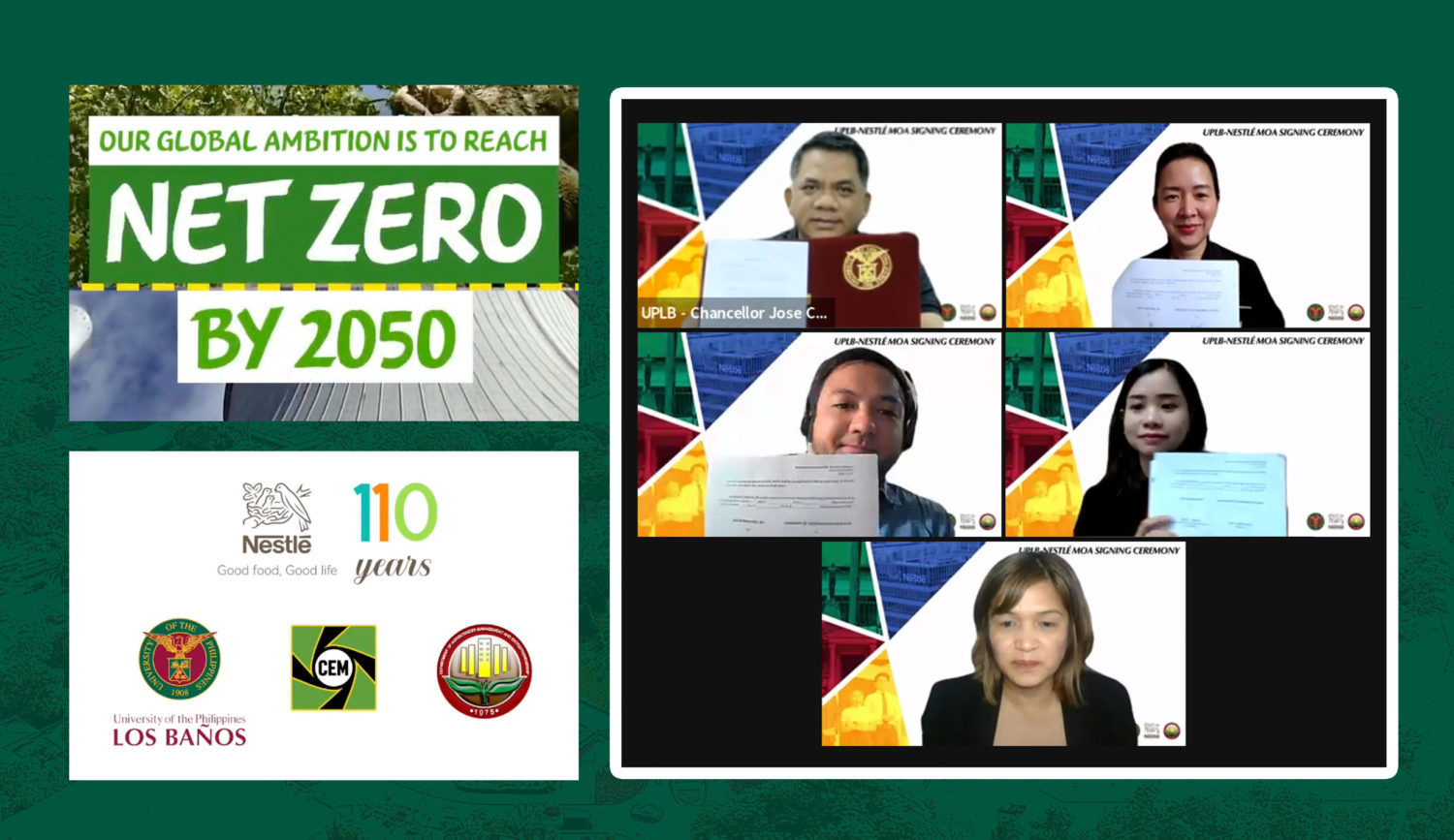 UPLB students taking Agribusiness Management and Entrepreneurship 10 will have the opportunity to apply their learnings and propose innovative and sustainable solutions to reduce greenhouse gas emissions.
This came after UPLB and Nestlé Philippines signed a Memorandum of Agreement to implement Nestlé's project Net Zero IdeaNation on Jan. 24.
Net Zero IdeaNation will be conducted through the Department of Agribusiness Management and Entrepreneurship of the College of Economics and Management (CEM).
The project aims to seek ideas from the youth to contribute to achieving net zero carbon emission by 2050.
Project head and CEM faculty member Renen Szilardo C. De Guzman said that this latest undertaking is an example of their efforts to integrate industry partners in their courses and curriculum, and empower the students to become innovative leaders and game-changers.
The teams with the best ideas will be a part of a mentorship program led by industry experts to develop their concepts further. All will culminate with a pitching competition where one team will be declared the winner.
"Nestlé is tackling climate change by setting a global ambition and roadmap that needs the involvement of the rest of the community. This is why we create meaningful partnerships and collaborations with stakeholders like UPLB that share the same commitment when it comes to mitigating climate change," said Arlene Tan-Bantoto, Nestlé's head of Public Affairs, Communication, and Sustainability.
"We strongly believe in the youth's capabilities and passion to be agents of change in society to create a lasting positive impact in the environment," she added.
In his message, Chancellor Jose V. Camacho, Jr. highlighted the effects of the partnership in enhancing the quality of education in the university amidst the pandemic.
"This undertaking will be an excellent mentoring opportunity for our students, which will further inspire them to become innovative and creative in helping find solutions and avenues for sustainable business," the chancellor said.
Nestlé Philippines also offers a post-graduate sustainability scholarship in partnership with the UPLB Graduate School. (John Glen S. Sarol: Originally Published on UPLB Website 25 January 2022)