UPLB DE Microeconomics Webinar Sheds Light on the Hidden Cost of Freebies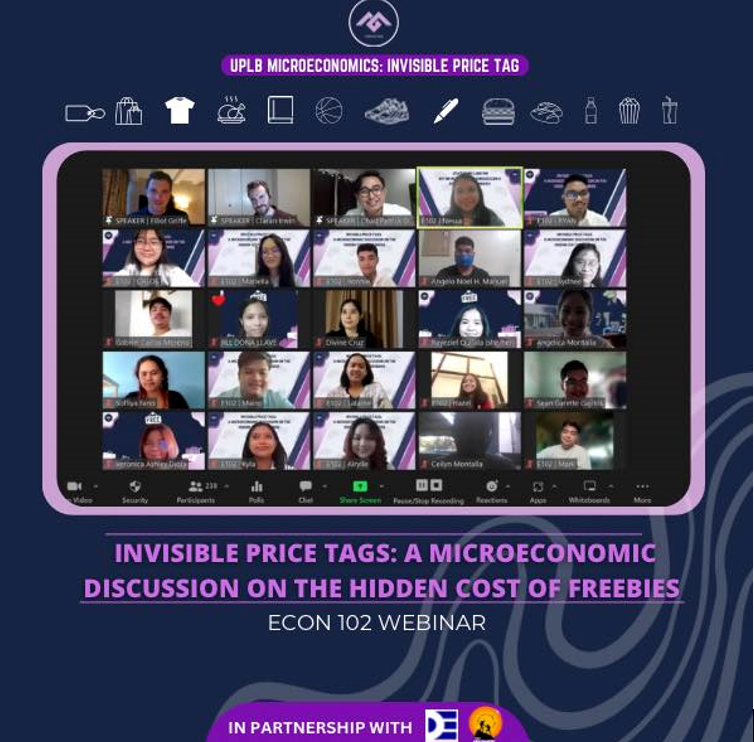 UP Los Banos, Philippines— On November 30, 2022, the class of Econ 102F spearheaded the webinar entitled "Invisible Price Tags: A Microeconomic Discussion on the Hidden Cost of Freebies." Featuring speakers from France, Canada and the Netherlands, the online event was held in partnership with the UPLB Department of Economics and 1407 Graymalkin Group. It opened a global discussion forum for hundreds of its student and professional participants on applied microeconomic theory.
Opening the discussion was Mr. Elliot Griffe, Team Manager at a Fortune 500 luxury company and currently based in Amsterdam. He talked about the concept of gift-giving as a business strategy for firms, and how they use this to claim a greater stake of the market. Mr. Ciaran Irwin, Program Delivery Coordinator from Vancouver and working in the field of leadership development, discussed the effects of freebies on consumers, and how it could possibly impact their decision-making. Atty. Chad Patrick Osorio, the class' Faculty-in-Charge, rounded up the discussion by relating the lessons learned to current pressing social issues, including environmental challenges and the rise of populism.
The event was held through Zoom and Facebook Live. Despite more than 320 signups, only 250 participants could be accommodated through Zoom, resulting to a total of 400+ external views on the social media platform livestream. Originally meant to be two hours and a half, the event had to be extended because of the high rate of audience participation and the many questions fielded the speakers.
The project was led by Mariella Paula Palileo, and hosted by Justin Ryan De Leon and co-event head Chloe Candice Distor. Key event organizers also include Ysa Culaban and Charlotte Garabiles, Secretarial Committee Co-Heads; Ronnie Dellova and Nessa Duana, Educational Committee Co-Heads, and; Arwen Allado & Janella Atienza, Publicity Committee Co-Heads. The event was supported by many members of the faculty of the College of Economics and Management, headed by Dean Agham Cuevas.
In the two short weeks since its inception, it cannot be overlooked that "successful" is certainly an understatement for this class project, having gone through the arduous rigmarole of logistics and group dynamics despite limited time, while still delivering well above what has been asked.
Looking onward, this class output serves as a significant accomplishment in expanding the realm of classroom boundaries, providing insight into ways to expand the base of student knowledge and experience for an entire course outside the centuries-old lecture and exam structure.
Congratulations are in order for the Department of Economics, 1407 Graymalkin Group, and Econ 102 F for this insightful webinar!
To view the event recordings, follow their page with the link below:
https://www.facebook.com/profile.php?id=100087441817481&mibextid=ZbWKwL
Written by:
Carl Kristoffer Hugo, BS Economics
Chad Patrick Osorio, Faculty-in-Charge