Six Alumni Awarded as CEM Distinguished Alumni Awardees for UPLB's 103rd Loyalty Day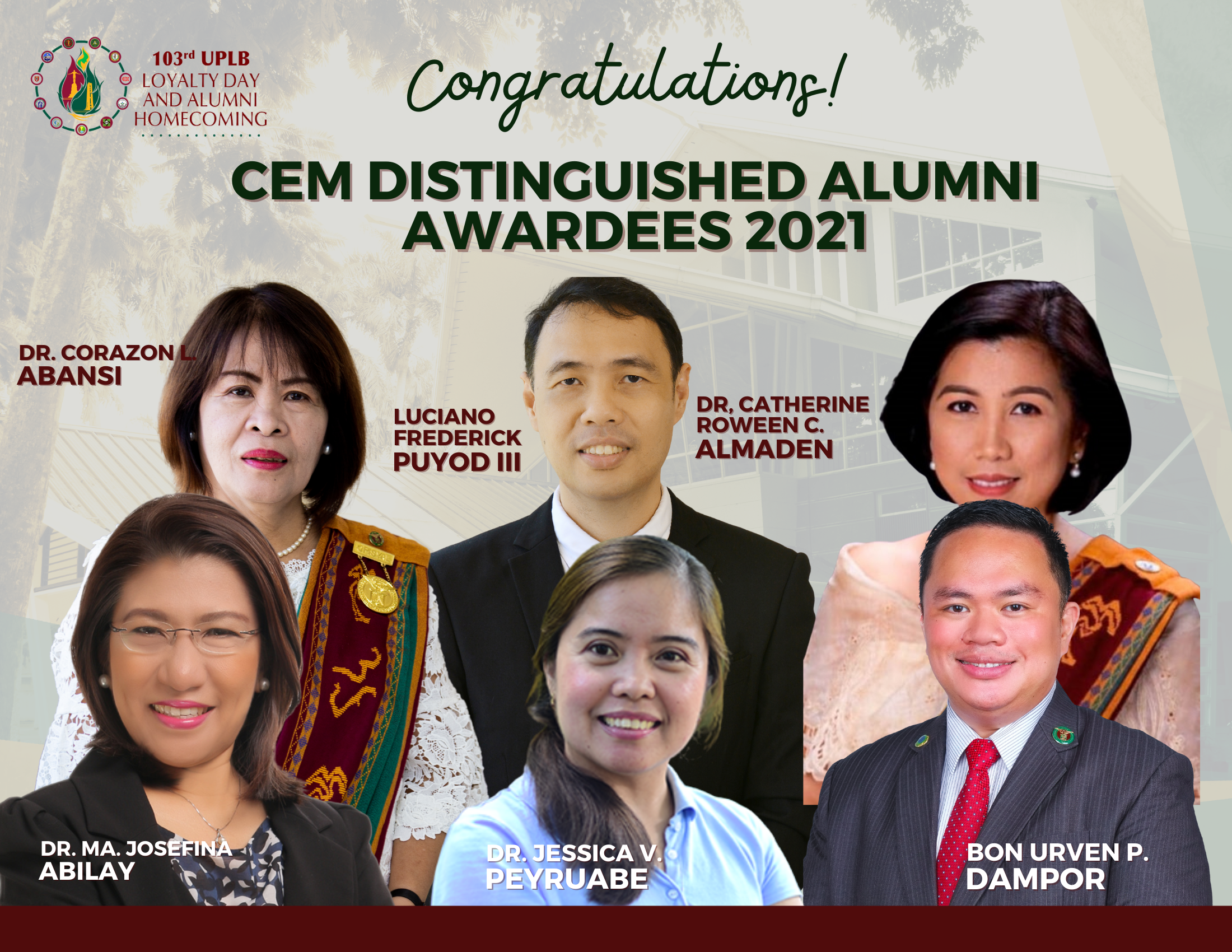 The College of Economics and Management is proud to recognize a total of six college distinguished alumni awardees from the education, public service, banking, environmental sciences, and agribusiness entrepreneurship. This year's awardees are Dr. Corazon Abansi, Dr. Ma. Josefina Abilay, Dr. Catherine Roween C. Almaden, Mr. Bon Urven P. Dampor, Dr. Jessica V. Peyruabe, and Mr. Luciano Frederick Puyod III.
Dr. Corazon L. Abansi's bachelor's, master's and doctoral degree are all from UPLB under the Agricultural Economics program. She is the third chancellor chancellor of UP Baguio, and is currently teaching Management and Economics undergraduate and graduate courses under the Institute of Management. Chancellor Abansi's is this year's recipient of CEM Outstanding Alumna in Educational Management and Leadership
Dr. Ma. Josefina Abilay has been leading various government agencies towards quality management and is an advocate in promoting (STI) Science, Technology, Innovation. She is the founding member of ASEAN Business Incubator Network, a Technology Transfer and Commercialization initiative. She is currently the Regional Director of DOST-MIMAROPA. Dr. Abilay's unwaivering public service is recognized by the college giving her the CEM Outstanding Alumna in Government Service & MSME Development.
The current college president of Nothern Bukidnon Community College, Dr. Catherine Roween C. Almaden has attended and received various international trainings, scholarship, fellowship, and grants from over 20 universitys and international organizations from over 15 countries including the Netherlands, Germany, Norway, Japan, South Korea, Malaysia, Singapore, USA and in the Philippines. Dr. Catherine is CEM's Oustanding Alumna in Higher Education Management.
Mr. Bon Urven Dampor is currently the Senior Manager and Asia Region Head and Relationship Manager of the BPI Inward Remittance Business, Remittance and Fund Transfer Division Strategy, Product, and Support Group. He rose from the ranks from his officership training in BPI Family Savings Bank and went up the management ladder to become a promising leader and innovator. Bon knows very well the value of giving back. He is the BPI Bayan Group Leader for "Rural Solar Electrification Project for Indigenous Peoples' Communities in Mindanao – Lifting Lives Out of Poverty. This is a volunteerism project which gives the Subanon IP Community in Panaon, Misamis Occidental (his hometown) access to basic electricity. Bon is CEM Outstanding Alumnus in Remittance Banking and Relationship Management.
Dr. Jessica Peyraube is an Associate Professor and Head of the Research and Extension Division from SESAM UPLB. She is actively mentoring Graduate Students while performing her Research Advocacies on Sustainability. She earned her doctoral degree, with Highest Distinction, from Université de Bordeaux, France and is a A recipient of UP OVPAA Balik Phd Grantee from 2020-2022. Her dedication towards her field earned her the CEM Outstanding Alumna in Environment and Natural Resource Management.
Mr. Luciano Frederick Puyod III has 20 years of experience in plantation operations, and almost 15 years in international fresh produce marketing among clients and partners in Japan, China, South Korea, Singapore, Indonesia, Malaysia, and the Middle East. Mr. Puyod is the President and CEO of S&N Fruits Corporation and Philippine GreenFarm Development Corporation. With this service, he was awarded with the CEM Outstanding Alumnus in Entrepreneurship and Corporate Governance in Agribusiness.
The 103rd Loyalty Celebration will be done virtually this coming 10 October 2021 (Sunday) and will be live streamed via Facebook: bit.ly/OAR-FB.
The Alumni Awarding Ceremony will follow by 2pm which can be also streamed live via Facebook: bit.ly/OAR-FB.
The celebration and awarding ceremony can be still accessed even after the event through the OAR's YouTube channel: bit.ly/OAR-YT. For more information regarding the activities for the 103rd Loyalty Day, please visit this link: https://loyaltyday.uplb.edu.ph/